News — eliteoutdoormovies
Posted by KEITH SLENTZ on
FOR IMMEDIATE RELEASE Elite Outdoor Movies Introduces YOLO TV: The Ultimate Outdoor Television Experience [Lehi, Utah August 09, 2023] – Elite Outdoor Movies, a leading name in outdoor entertainment solutions, is thrilled to unveil its latest addition to the product lineup – YOLO TV.  For years Elite Outdoor Movies has provided the latest movie viewing technology mainly inflatable movie screens and state-of-the art sound systems coupled with projectors but now they are able to bring customers a permanent solution that is fully outdoor ready, it's bigger, brighter and frankly, better. "This is the next step many of our customers are...
Posted by Jill Dever on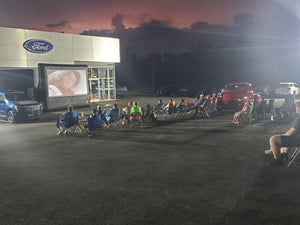 Elite Outdoor Movies selected as the screen and system manufacturer to kick off the Ford Lightning launch across the USA.